Dr. Mostafa grew up in London. He holds a degree in Biochemistry from the University of Western Ontario, and a Doctorate of Dental Surgery from the University of Detroit Mercy (2000). He has spent his entire 20-year career serving the London community and has owned and operated Aria Dental Centre for 16 years.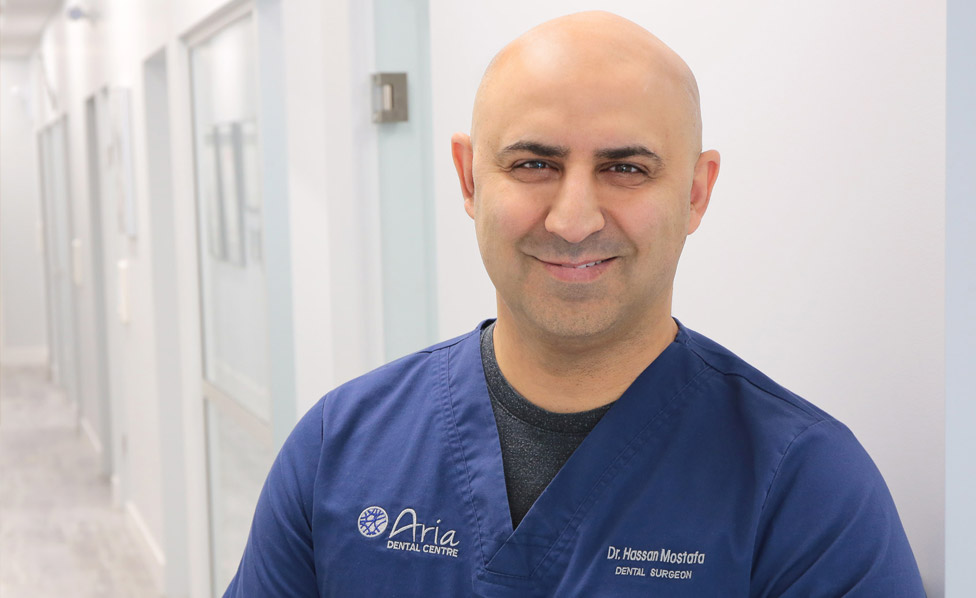 Dr. Mostafa credits his growth and success to our founder, Dr. Rick Merritt, who was his mentor, teacher, and friend. He's deeply grateful for the years Dr. Merritt took him under his wing. Dr. Merritt passed away in 2016, and Dr. Mostafa strives to honour his legacy by extending the gift of mentorship and service to others.
While he is experienced in all aspects of dentistry, Dr. Mostafa has a focused interest in implant and reconstructive dentistry. A strong believer in education, he has travelled the world to seek out advanced training and courses to further his skills and training.
Dr. Mostafa is a member of the Royal College of Dental Surgeons of Ontario, the Ontario Dental Association, and the American Academy of Implant Dentistry. He's fluent in English, French, and Arabic.
Outside the office, he volunteers and serves on the boards of numerous charitable and political organizations, including the Nazem Kadri Foundation, Kings University College, and others. He and his wife, Rania, have three children and he's a busy hockey and basketball dad.